Flow is all about collaboration, so getting your co-workers into Flow and working in your account is really important. Luckily, it's really simple to invite your teammates from anywhere in the app.
---
The first option is to create a custom URL that anyone with a particular email domain can use. You can set this up when you create an organization, but you can also set up a custom URL anytime in your Organization settings.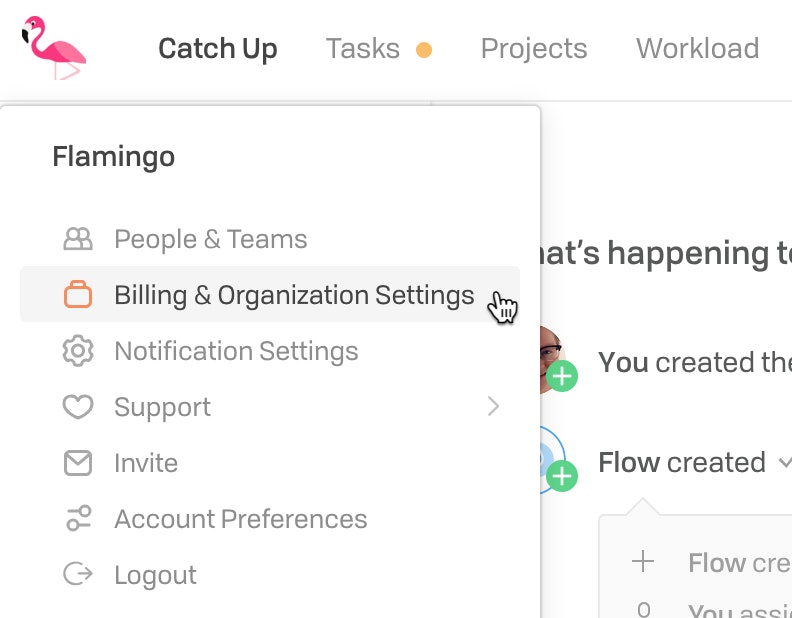 To do so, click the organization icon in the top left and select Organization Settings from the dropdown.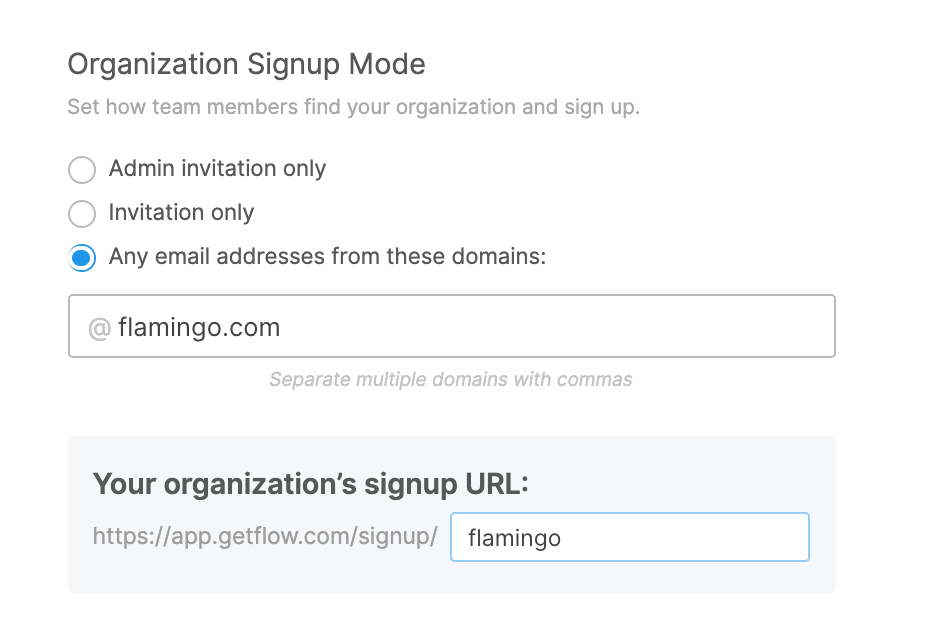 In the Organization Settings dialog under General Organization Signup Mode, select "Any email addresses from these domains," enter your organization's email domain(s) and below it the custom URL you want your organization to join through. When you're finished click "Save Settings." to apply the changes. You can now share that link with your teammates so they can join when they're ready.

Here, you also have the option to enable manual inviting and to determine who can invite new members. You can choose to allow only Organization Owners to invite new users by selecting "Owner invitation only" or to allow General organization members to invite new people too by selecting "Invitation only."
---
Inviting on the People page
If you choose to manually invite organization members, you can jump to the People page by clicking the organization icon in the top left corner and selecting "People & Teams". On the People page you'll see an "Invite members" button in the top right side.

Click to open the invite field and enter the email address of the person you want to invite. You can enter multiple email addresses in this field.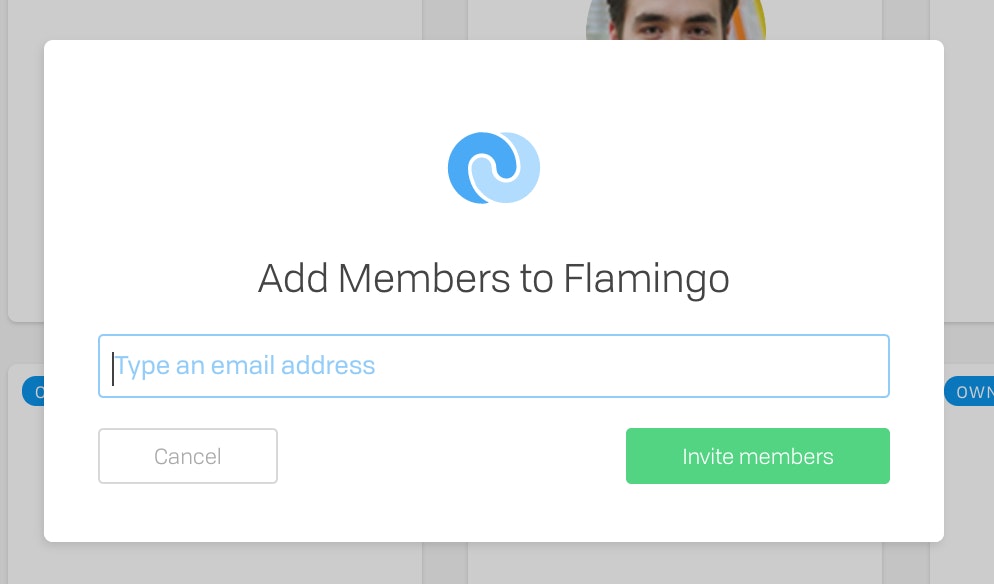 Once you've entered their emails, you have the option to limit their account, which means they will only have access to those teams, and projects that you specifically invite them to. You can also limit someone's account later via the user pane on the People page.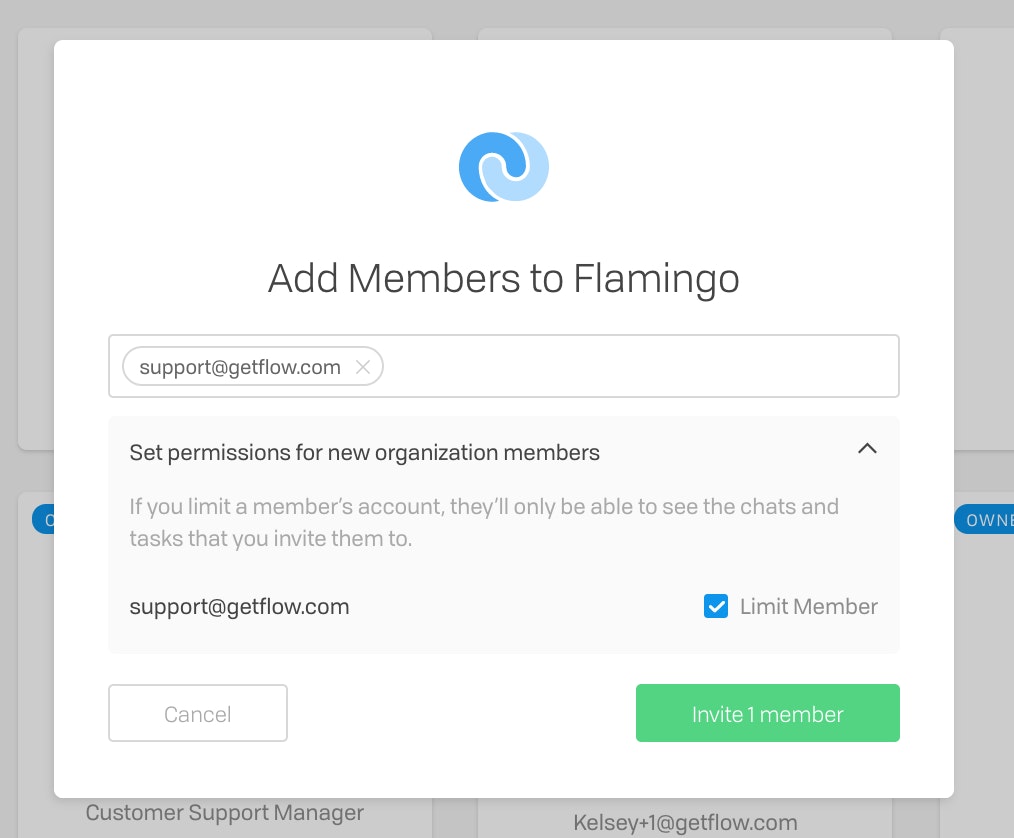 If you choose not to "Limit their account," they will be added as a General member to your organization which will give them access to any unlocked team, and any shared projects in that team.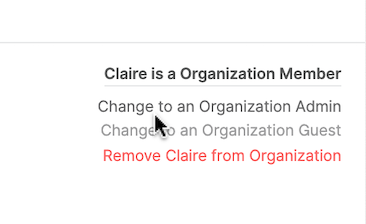 You can also promote them to Owner on the People page by clicking the user's avatar to open the user pane and then clicking "Change to an Organization owner." You can learn more about organization roles here.
---
Inviting from teams or projects
You can also invite new members directly from team, or project invitation form. Adding a user via the team invite form, which you can learn more about here, will present you with the same option to limit the user's account. If you choose not to they will be invited as an organization Member.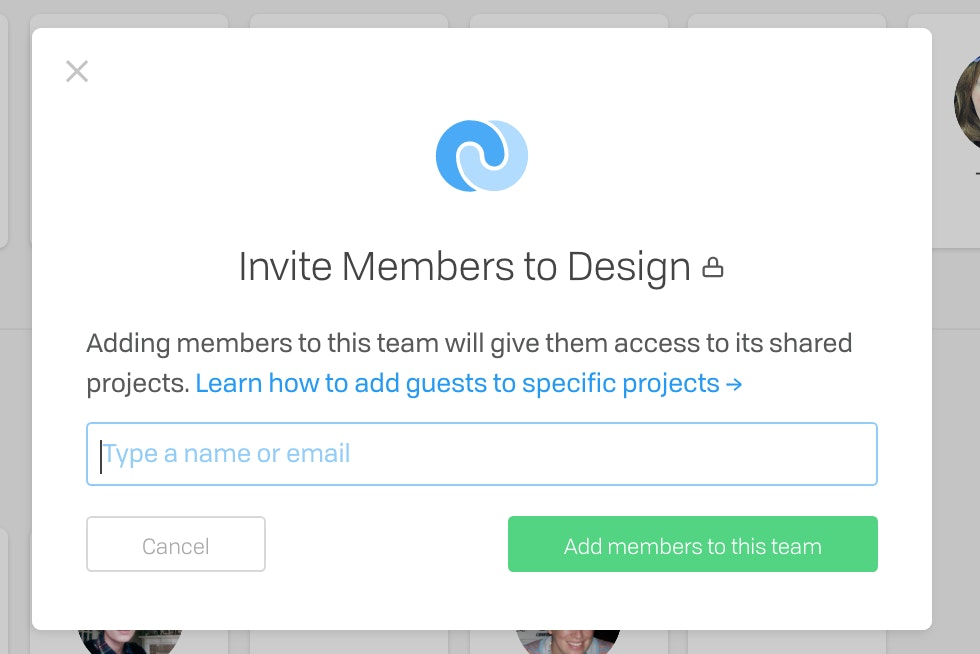 To invite from the project form, click the '...' button in the top right side of the project view and select Edit Share Options. You can then click "Invite guests" to open the invite form. Inviting someone to a project who isn't in your organization will add them to the organization as a Guest of the organization and a Guest in the Team, which means that they will only see the projects you specifically invite them to and cannot create or edit projects.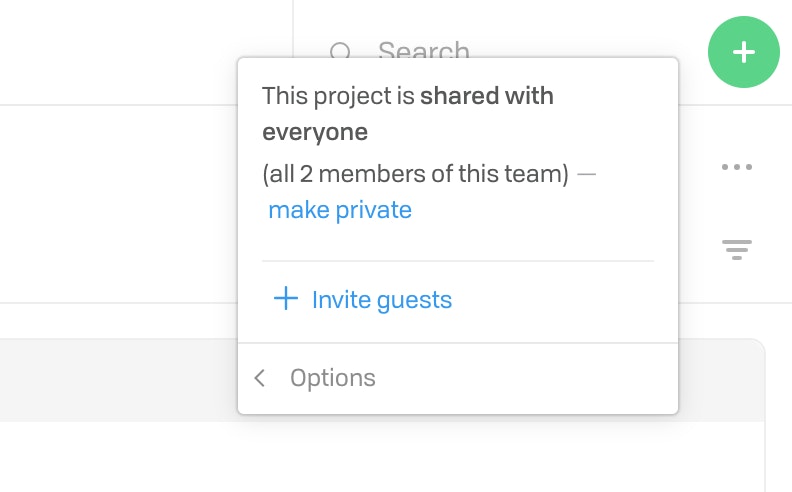 If you exceed your plan limit at any time while inviting new users, Flow will prompt you to upgrade your plan before continuing. You can also see how many current members you have on your organization and your plan's user limit at any time in the Organization section of your Account Preferences under "Subscription".
---
Sending Invite Reminders
If you notice that someone on your team hasn't activated their account/updated their profile or they say they haven't received the email yet, you can quickly send them another invite. Just click their avatar on the People page and then the "Resend invite" link next to their email address in their user pane.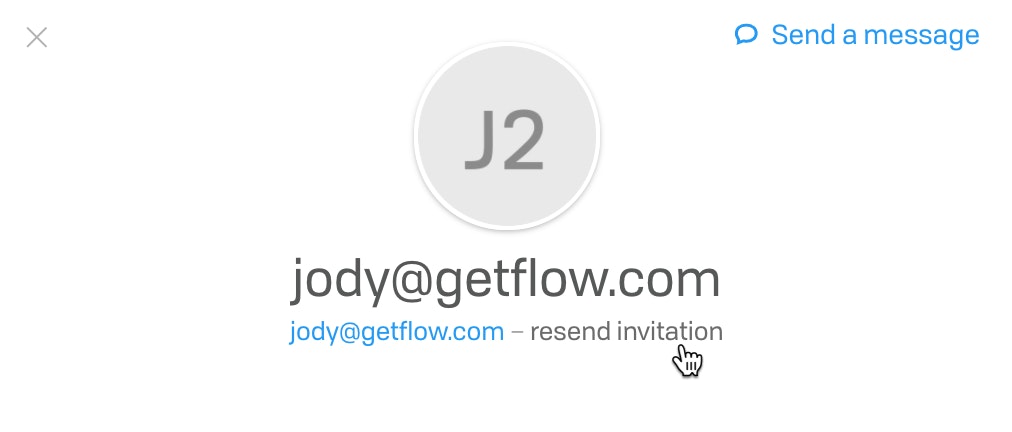 You should see a success message if the email is successfully resent. If you see an error message or your teammate is still not receiving the email, please reach out to our Customer Experience team.