Customize the notifications you receive by editing your notification preferences.
---
In Flow, you can choose which kind of notifications you'd like to see. To customize these, click your organization icon in the top left and select Notification Settings.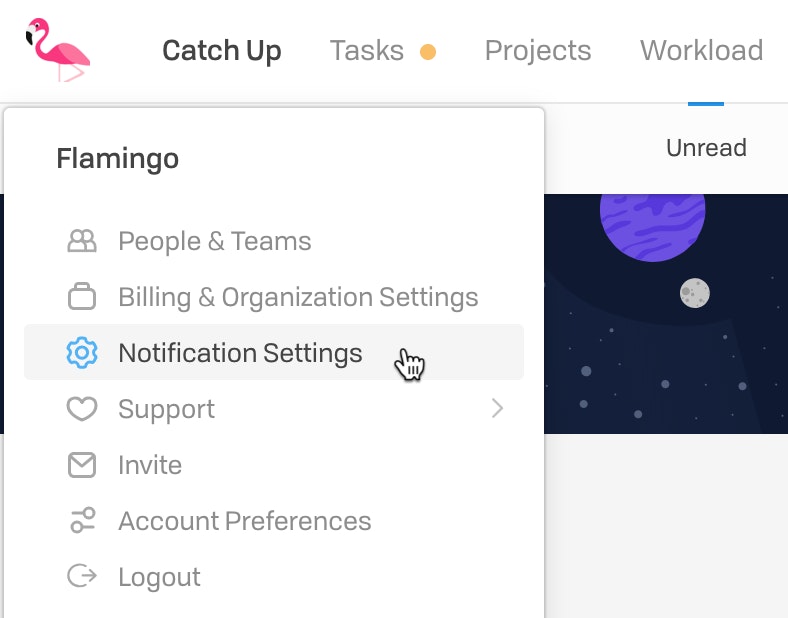 You can also open the Notifications Settings menu by hovering over Catch Up in the navigation bar and clicking the gear icon in the popover.

---
Desktop Notifications
Once your Notification Settings are open, just click the check boxes in the "Desktop" column next to the activities you want to know about. You can receive desktop notifications for tasks and chat, so you'll receive live push notifications in the top right corner of your screen when someone updates or comments on a task, mentions you in a chat room, or sends you a direct message. You can also receive desktop notifications when someone likes one of your comments or messages.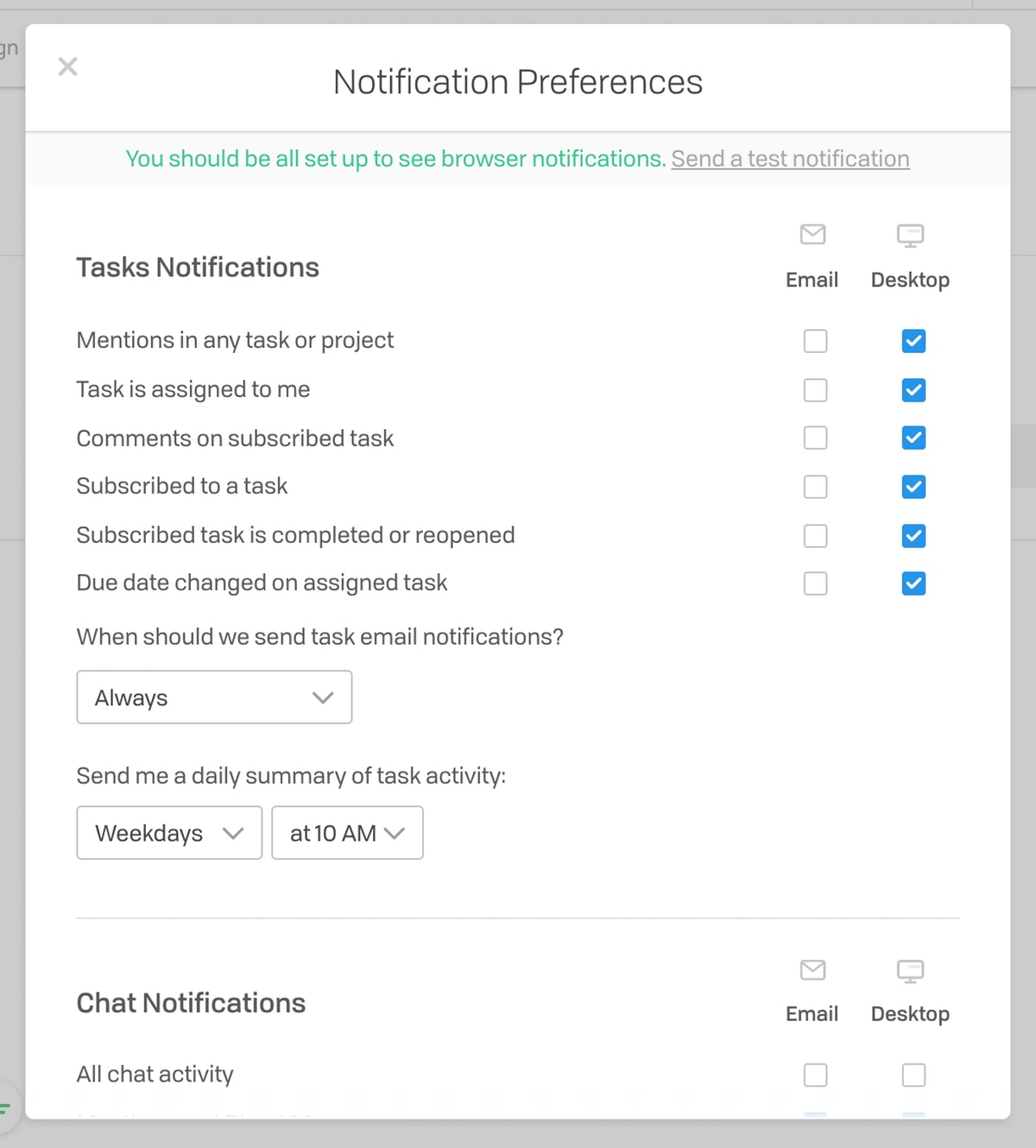 Desktop notifications only appear for a brief moment, but don't worry if you don't catch them in time: they're all stored in the Catch Up popover so you can review them later.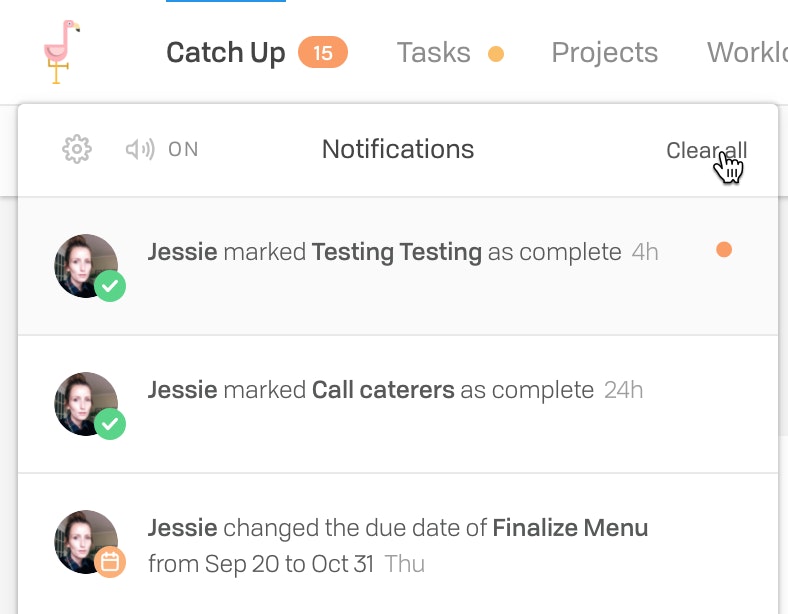 To clear them, you'll need to click through each unread notification, or you can select "Clear all" in the top right corner of the Catch Up popover.
---
Email Notifications
With Flow's email notifications, you can easily keep up with task or chat activities while you're away from the app. To enable email notifications, just click the checkboxes in the "Email" column to receive notifications for specific activities.
You can choose also choose to receive email notifications only if you've been away from Flow for longer than 5 minutes (you won't receive them if you're active in Flow or if you leave and come back within 5 minutes) or to always receive them. Just click the dropdown below "When should we send task notifications?" to select when you want to be notified.

You can also opt into receiving an email containing a daily summary of task activities (which we call the "Daily Digest") by selecting "Every Day" or "Weekdays" from the dropdown at the bottom of the Task section in the Notification settings. To turn off the Daily Digest at any point, simply change the selected option to "Never."

You can comment on a task directly from your inbox by responding to the email notification like you would a regular email.
---
Chat Notifications
In addition to being notified of any mentions or direct messages, you can also receive notifications when new messages are posted in any chat room. You can also specify which chat rooms you want to receive notifications for. For all chat rooms, just check the boxes for "All chat activity" in the Notification settings.

If you'd like to keep up with only specific chat rooms, click the name of the chat room you want notifications for in the chat sidebar and click the bell icon in the top right corner of the chat room to see more options.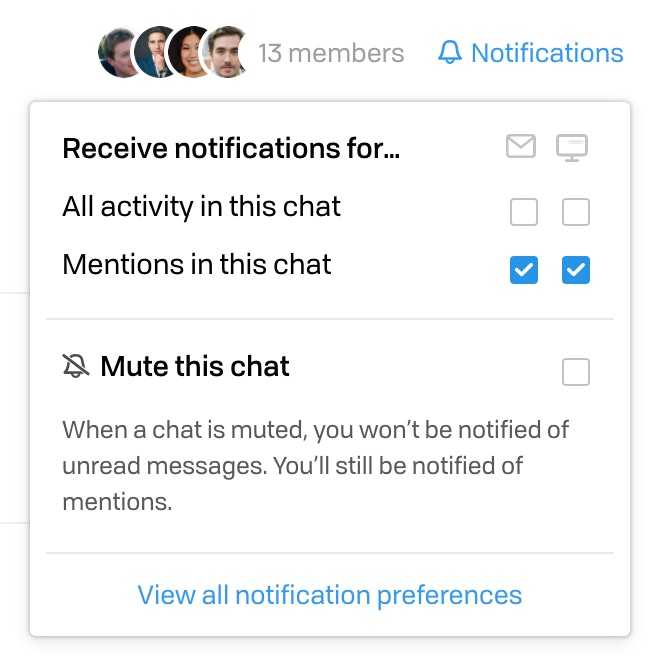 You can also mute chat rooms here if you don't want to be notified of any new messages, but you'll continue to receive notifications for mentions.
Note: you won't receive desktop or email notifications if you have Focus Mode enabled.
---

Mark Notifications as Read/Unread
When you receive a new in-app notification, an orange counter badge will appear over the chat or tasks notification icons. To read the notification, just hover over Catch up or Chat to open the appropriate dropdown.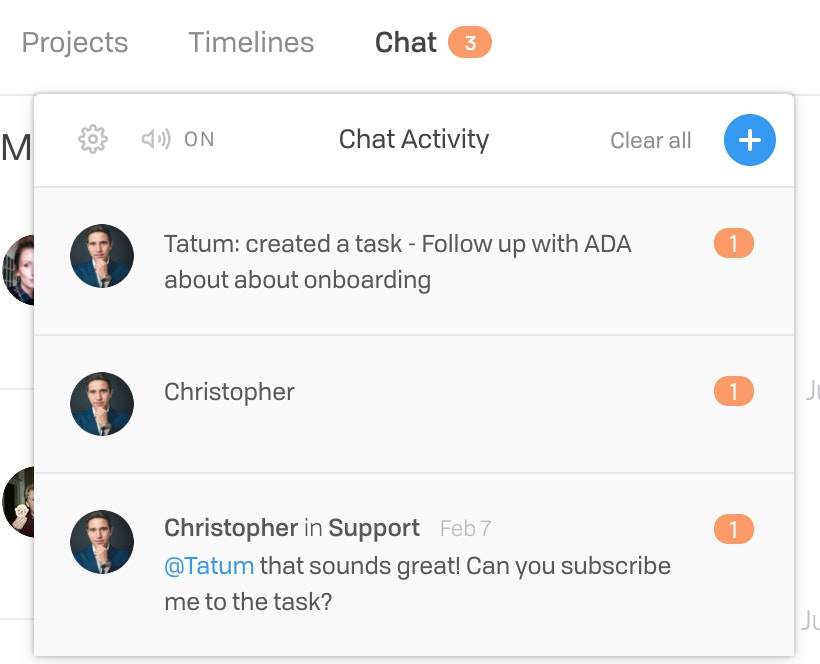 You can then click through each notification to view the new activity, which will mark the notification as read. You can also hover over and click on the orange unread indicator to mark the notification as read. If you want to clear all unread notifications at once, click "Clear All" in the top right of the dropdown.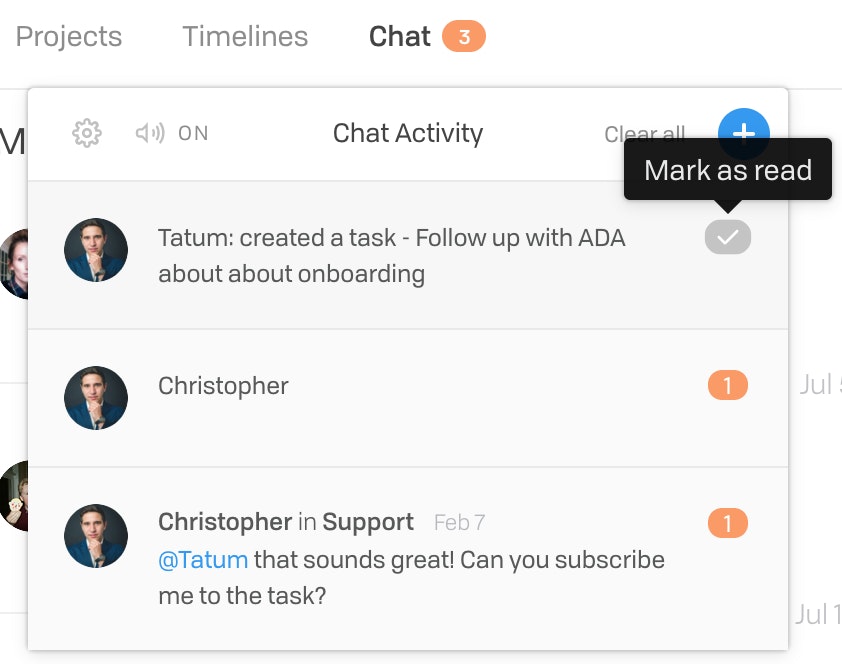 If you want to mark a notification as unread just hover over a non-highlighted notification in the dropdown and click on the orange icon that appears. The notification will then highlight blue and the counter badge will reappear.