Manage your email address in your account preferences. You can also add alternate addresses.
---
The email address you used to create your Flow account is your primary email address. But that email can change, or a new one can become more useful, so we've made it easy to update this info anytime.
First, open your preferences by clicking the organization icon in the top left and selecting Account Preferences from the dropdown. In the Email Addresses section, you'll see fields for Primary Email, Alternate Emails, Notifications, and Email tasks to Flow.

---
Change Primary Email
The primary email address is the email you'll login with and the one you'll receive email notifications and messages at. To change it, click "Edit", enter a new email address, and click "Send Verification." You'll receive a verification email with a link you can click on to finalize the change.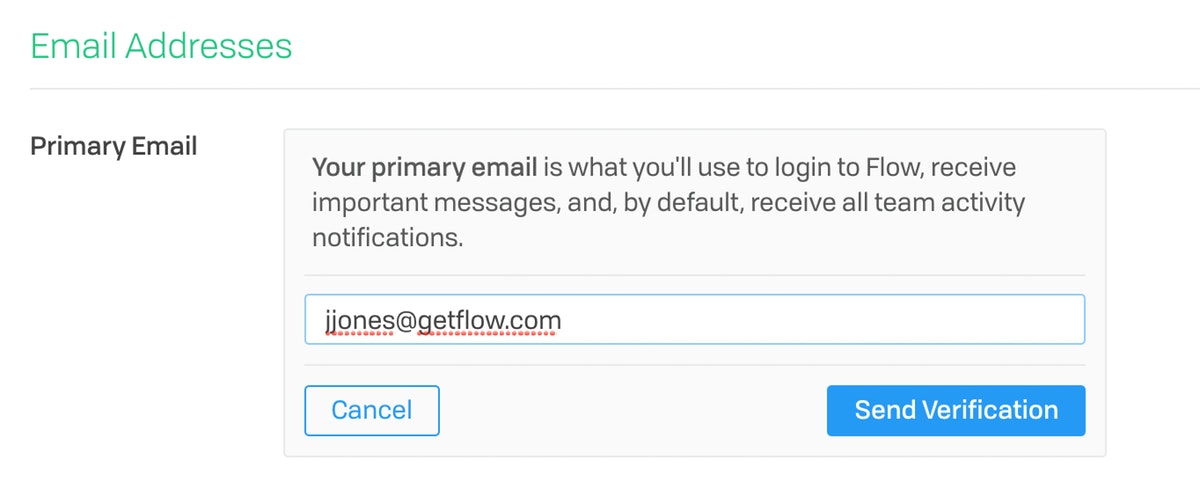 ---
Add Alternate Emails
Add alternate emails to receive team notifications and email tasks to Flow with. Just like changing your primary email, you'll be sent a verification email with a link to finalize the verification process. You can add as many alternates as you need!

---
Email tasks to Flow
Flow allows you to create tasks from any verified email address on your account. To add an email address, click "Edit," and click the drop-down available to select another email and click Save when you've finished. You can only choose one default team to create tasks in for each email you add.