Tasks are at the core of our work and rightly at the core of Flow. As such, we've made creating tasks as easy and powerful as possible. Here's a look at the different ways you can create tasks and start building out your projects.
---
Using the task form
To start creating detailed tasks in Flow, just click the + button in the top right corner of the app. This opens a task pane where you can enter more details about what needs to be done.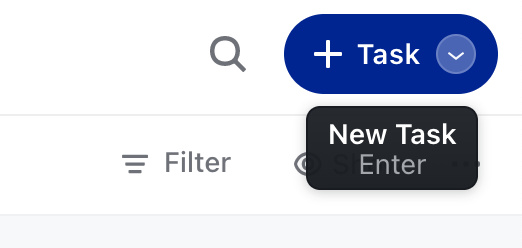 First, you'll name your task; concise names usually work best as there is a 255 character limit. If you need to elaborate what the purpose of the task is, or how other people will be involved, add a task note by clicking the "Add notes" field and typing your description. You can also @mention users and add emoji.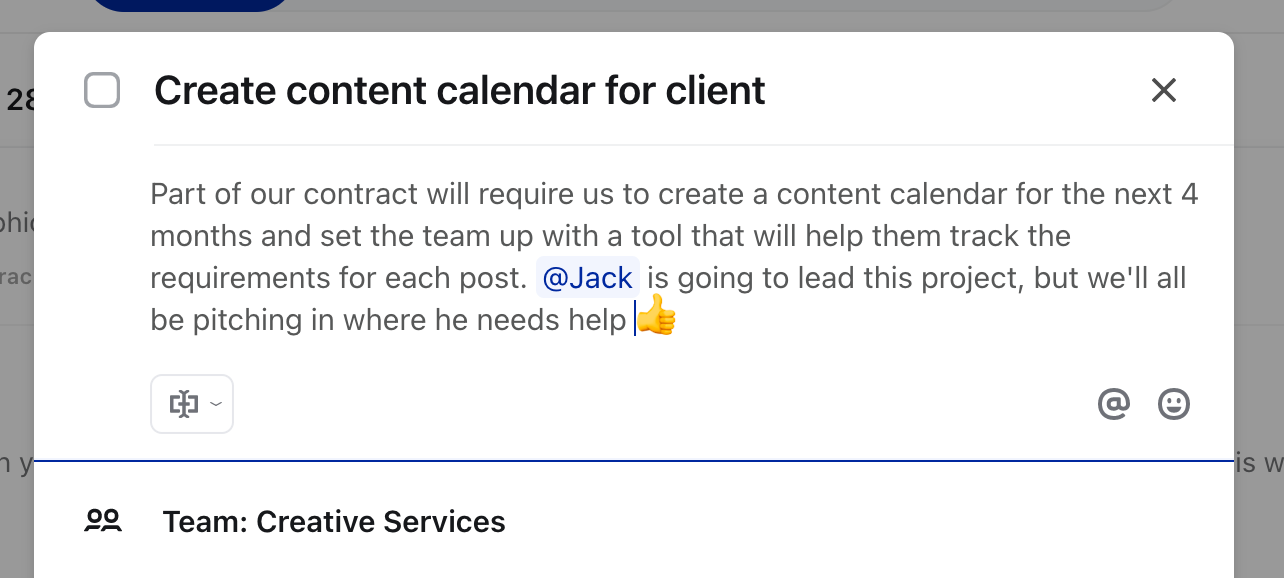 Below the note field, you can add more details to the task, such as:
Edit the team/workspace it's in
Choose a project/section to file the task in
Assign to a teammate or yourself
Add task followers, so they're notified of any new activity on the task
Set a due date
Set the task to repeat on certain days, weeks, or months
If your team has a Pro/Plus subscription, you can also:
Set a start date and a due time for your task
Apply tags to further organize or categorize your task
Set a level of Priority from Low to Urgent
Hit Tab on your keyboard or click to edit to a new field. Then start typing and choose from the suggested options or hit Enter to create a project or tag from a new entry. Leaving the assignee field blank will assign the task to no one.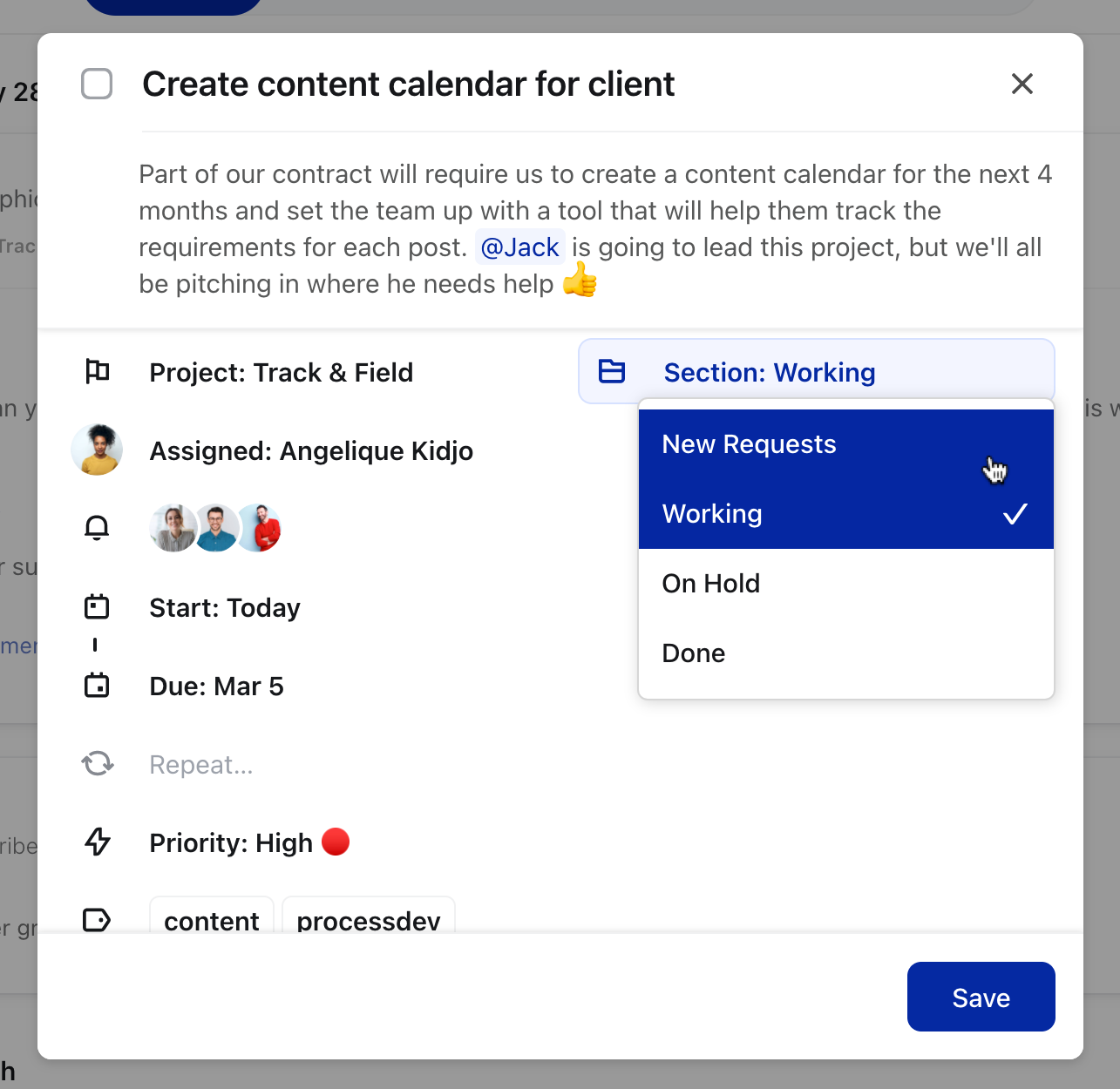 If you have files or supporting attachments to include in your task, you can click the "Add Files" field to upload them. You can choose to upload from your desktop by clicking Your Computer or drag and drop over the task pane from your desktop. You can also upload files via one of the third-party file sharing services Flow integrates with, including Google Drive, Dropbox, Box, and OneShare.

If you need to break your task into smaller pieces, you may want to create subtasks. To do so, click into the subtask field, give your subtask a name and hit Enter on your keyboard to save it and create a new subtask line. You can also hit Tab before saving to assign the subtask to a teammate (if different from the parent task assignee) and add a start and due date.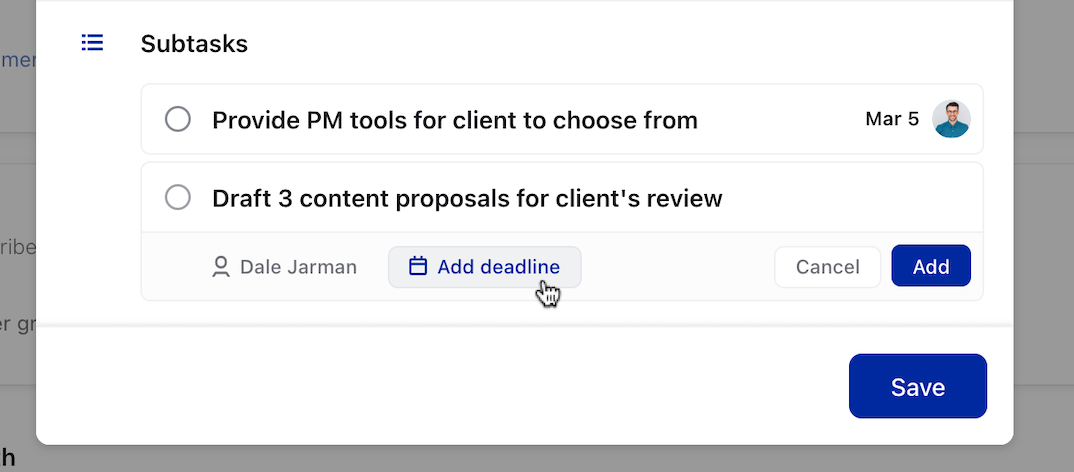 FYI: You can also easily bulk add subtasks to Flow! Just copy a list of items from any doc or tool you use then paste the list in the subtask field. This will generate a subtask for each copied line of text.
When you're ready to save your task, just click the "Save" button at the bottom of the task window. When the task is saved a comment form will appear where you can communicate with your teammates about the task and share more files.
---
Creating tasks in project sections
You can also create tasks within projects by clicking the + next to the project name. This will pre-fill the project and section in the task form automatically.