Tasks are at the core of our work and rightly at the core of Flow. As such, we've made creating tasks as easy and powerful as possible. Here's a look at the different ways you can create tasks and start building out your projects.
---
Using the task form
To start creating detailed tasks in Flow, just click the green + button in the top right corner of the app or hit Enter/Return on your keyboard. This opens a task pane where you can enter more details.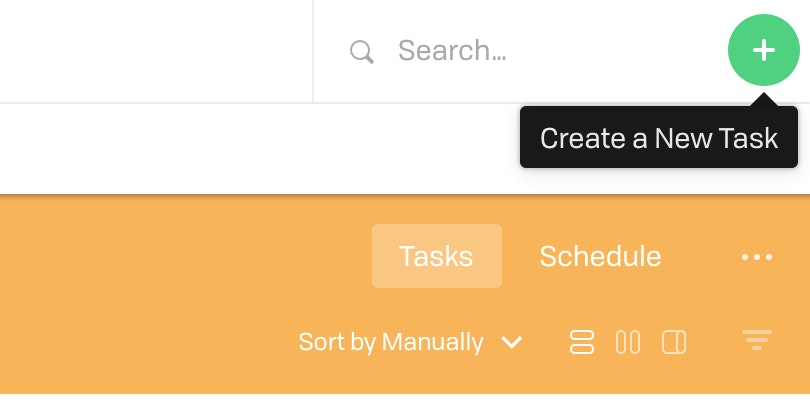 The first thing you'll want to do is name your task; concise names usually work best as there is a 255 character limit on task names. If you need to elaborate what the purpose of the task is, or what the subscribers' roles will be in completing it, add a task note by clicking the "Add a note or attach file" field. Here, you can also @mention, add emoji and upload attachments as in task comments.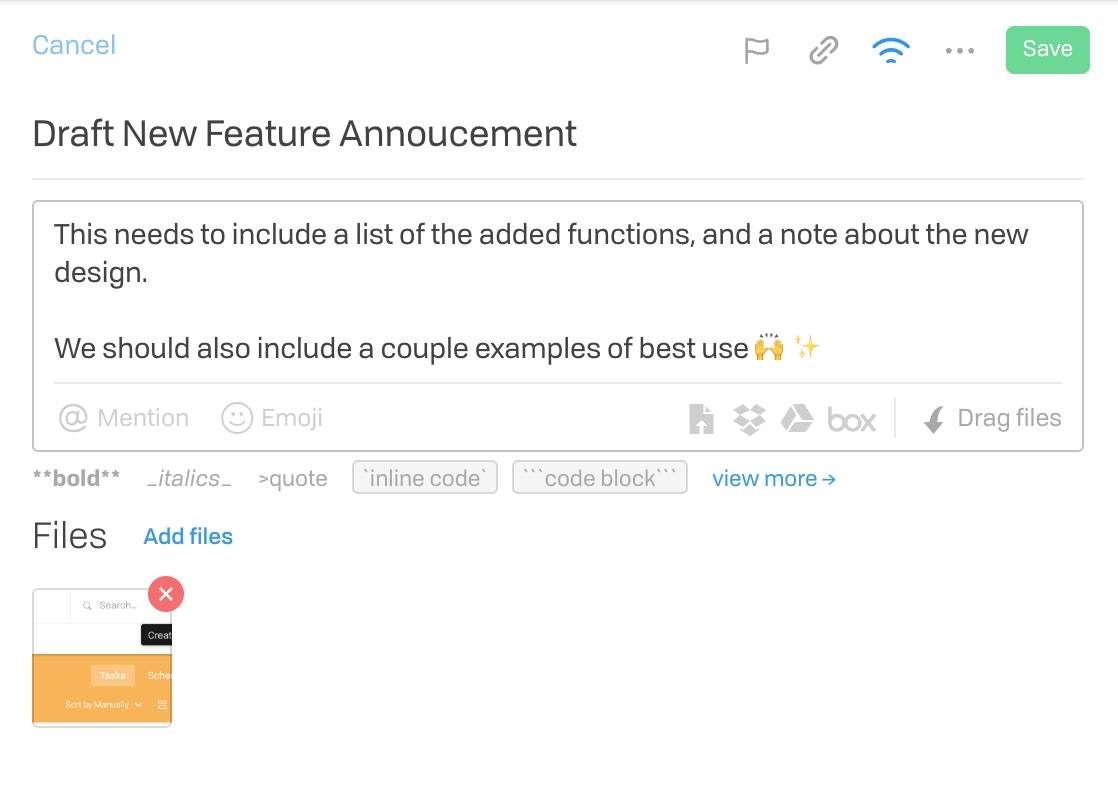 Below the note field, you can add more details to the task. You can edit the team, choose a project/section, assign to a teammate, invite subscribers, and schedule a start or due date. If your team has a Pro/Plus subscription, you can also apply tags to organize or categorize your task. Hit Tab on your keyboard or click to jump to a new field. Then start typing and choose from the suggested options or hit Enter to create a project or tag from a new entry. Leaving the assignee field blank will assign the task to no one. Unassigned tasks display a "Claim or Assign this task" link below the task name, you can read more on unassigned tasks here.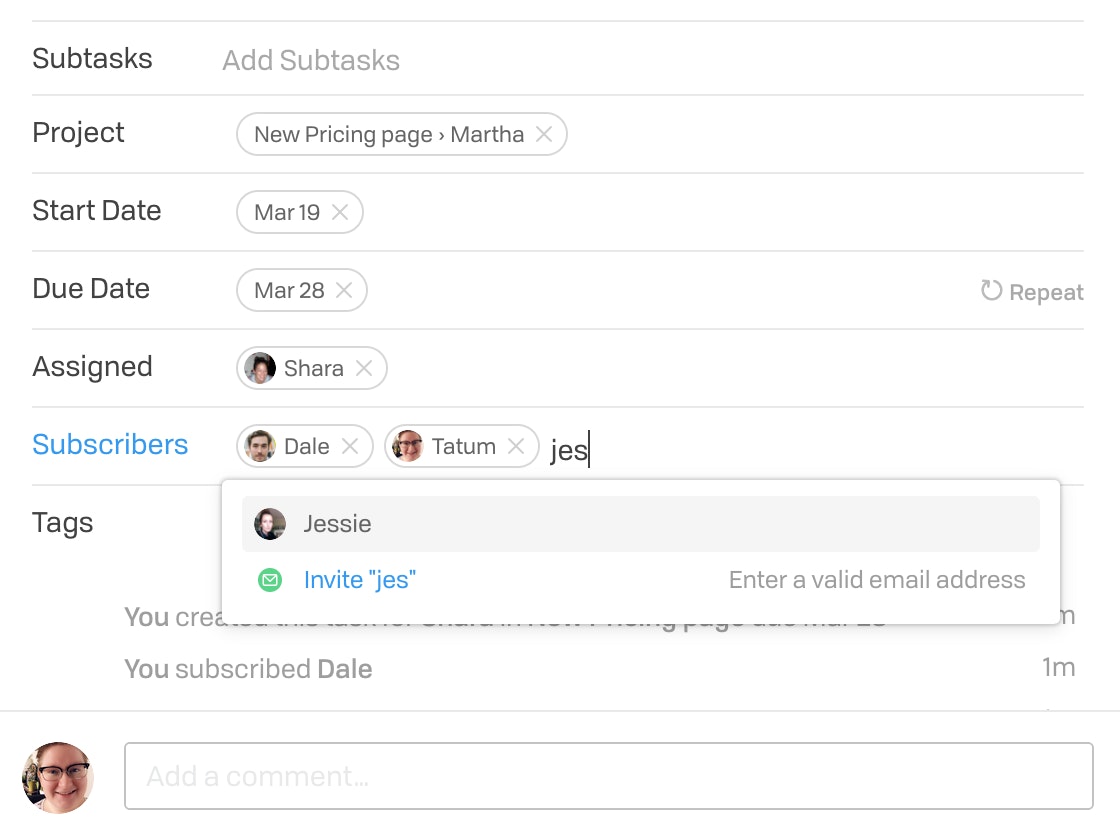 If you need to break your task into smaller pieces, you may want to create subtasks. To do so, click into the subtask field, give your subtask a name and hit Enter on your keyboard to save it and create a new subtask line. You can also hit Tab before saving to assign the subtask to a teammate (if different from the parent task assignee) and add a start and due date.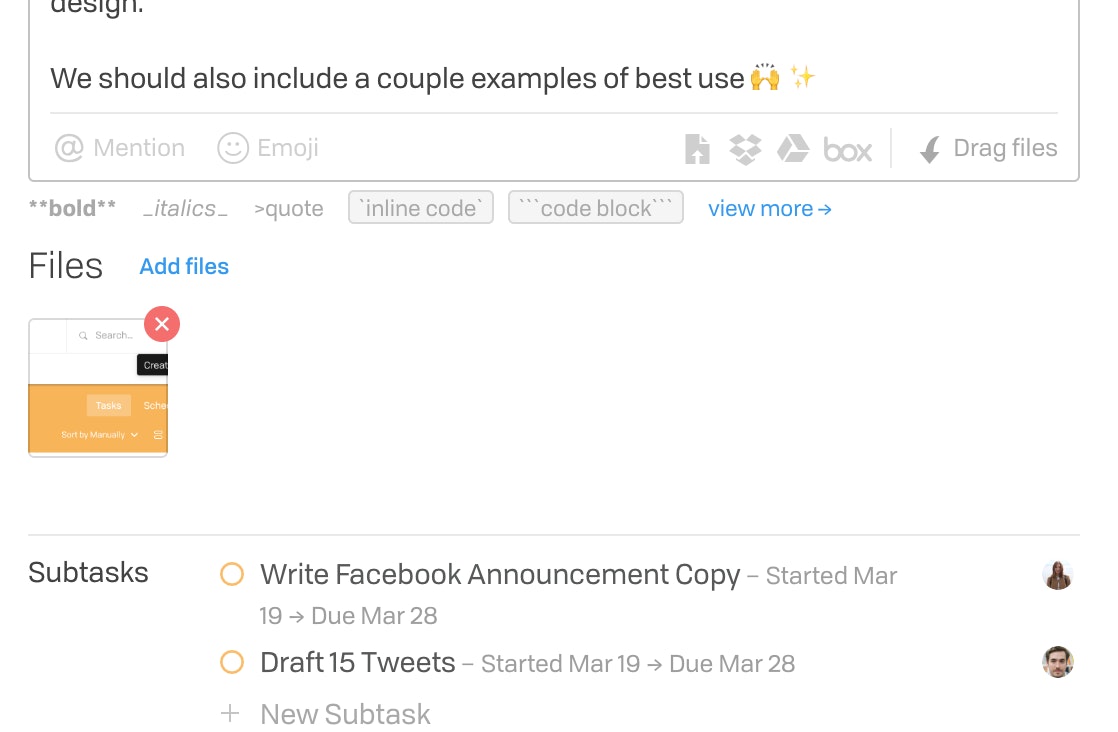 When you're ready to save your task, just click the green "Save" button in the top right corner of the task pane. When the task is saved a comment form will appear where you can communicate with your teammates about the task and share more files.
---
Using the Quick task bar
Quick tasks are a fast alternative to creating tasks in the task form. Just click "+ New Task" link that appears at the bottom of every project and enter the name of your task.

If you need to add more detail to it, you can use the task actions on the right to add the task to a project, set a due date, assign to a teammate, etc. You can also Tab through the options to save even more time.

To save, hit Enter on your keyboard. If you need to clear this task during creation at any time, just hit Esc.
FYI: You can easily bulk add tasks to Flow! Copy a list of tasks from chat, Slack, Paper etc. then Paste the list in the quick task bar. This will generate a task for each copied line of text!