Deciding what to work on when is essential to task management. Here are a few tips for prioritizing tasks in Flow.
---
Some days, it may feel like you have more tasks than you know what to do with. Knowing what to work on when is a crucial element of task and project management, so it's important to find a way to distinguish high priority tasks from everything else. Below you'll find four tips that will help you prioritize your tasks so that you and your team can stay on top of your work.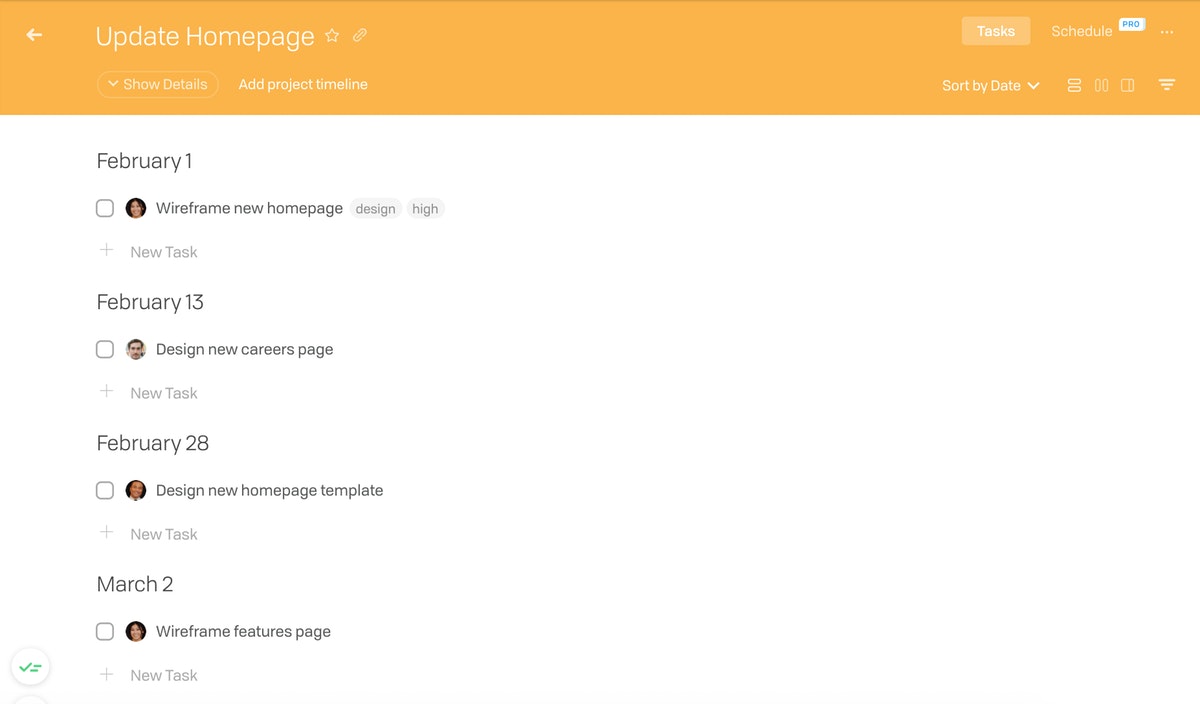 ---
Due Dates & Catch Up
Adding start and due dates to tasks that you are creating (or editing) allows you to see what you need to work on when. When a task becomes due, the checkbox next to the task title turns yellow; when the task is overdue, the checkbox will turn red, providing a nice visual cue that you need to act soon. Any tasks that are due today or overdue will also appear on Catch Up once you've marked all unread activity as reviewed, so you can easily see what needs your attention for the day. You'll also see a yellow and/or red dot appear next to Tasks in the navigation if you have tasks due today or overdue. Once you click into Tasks, you'll see a numbered badge indicating how many tasks you have that are overdue or due today. You can also sort your projects by start or due date depending on whether you want to know when work should begin or when it should wrap up. Just click the "Sort by" link at the top of the project to see your options.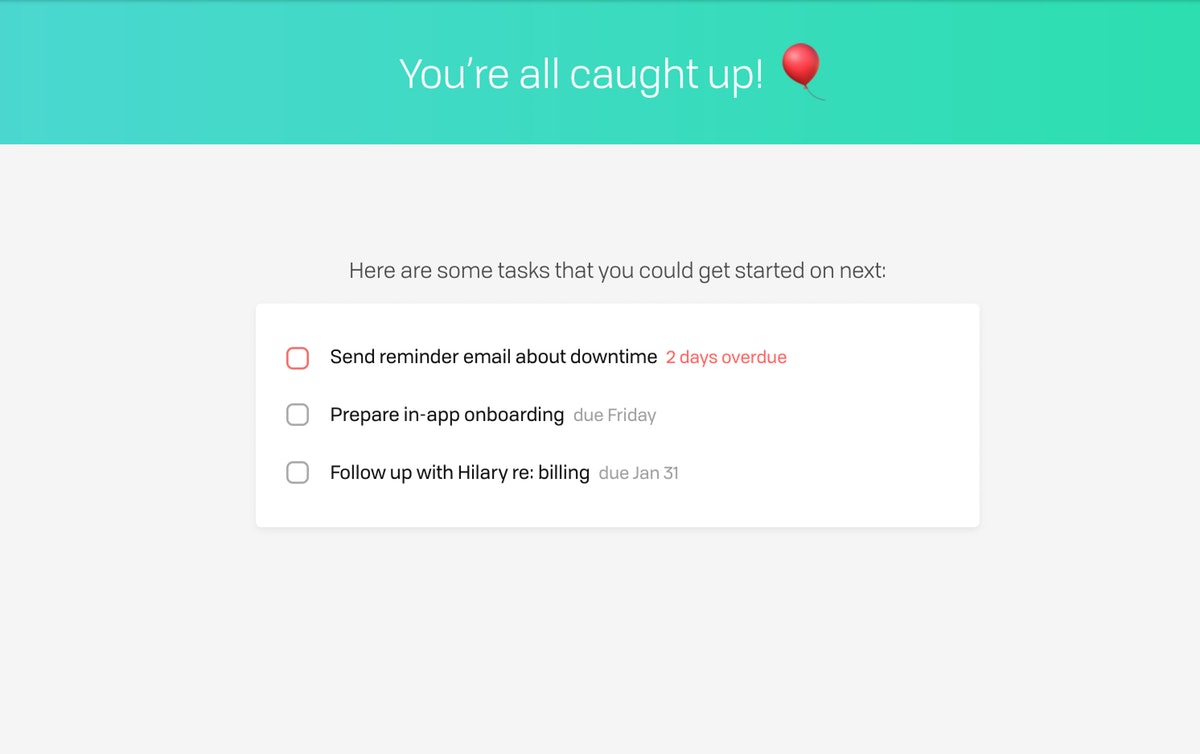 ---
Tags
To group similar tasks together under the same category or level of priority, you can add tags. Tags are completely customizable - you can start with tags like #high and #low or any system that makes sense for you and your team. Tags are displayed alongside the task title in both the task pane and in the project view. You can use the filter bar to search whichever tag you want to focus on in a particular project or view, or use Flow's global search function to search the team you're currently in.
FYI: Tags are only available as part of our Plus and Pro plans. To learn more about what each of our plans include, check out our help doc here.

---
Flags
Flagging tasks is a great way to personalize what you need to focus on throughout the day. Just hover over a task in the project or task view and click the flag icon in the menu that appears on the right side. This copies the task to your private Flagged view, which you can access in Tasks by clicking "More tasks" then "Flagged." The Flagged view is only viewable by you and provides a quiet space to focus on only those tasks that you need to zero in on and filter out any tasks in your projects that may not be immediately relevant. You can also use flags in your shared projects and views as a visual reminder of the things you want to focus on. Since only you can see your flags, you don't have to worry about cluttering up your team's view or someone else getting their flags confused with yours.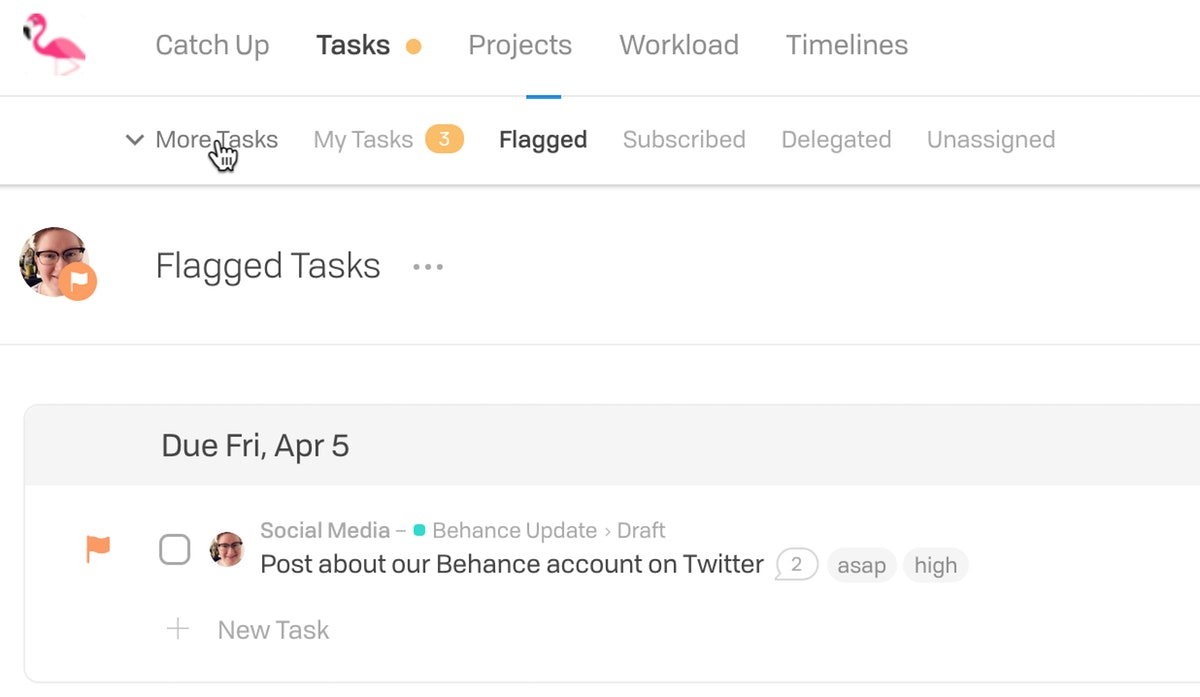 ---
Sections
Creating sections for each priority level in a project (ex. Low, Medium, High) is a quick way to clarify what tasks need attention first. It also makes changing task priorities quick and flexible: simply drag and drop tasks into each section as needed without editing task details or create tasks directly in the section that best fits their current level of priority.