Projects in Flow are key to organizing your team's work. Here's how to create them, with privacy in mind, and edit their details to keep them up to date.
---
Projects are perfect for organizing tasks related to the same initiative and make your Flow teams easier to navigate. You can use projects for structuring work that involves multiple teams or teammates and for tracking ad-hoc tasks related to a similar outcome.
To create a new project, click the v next to the +Task button in the top right corner of the app and select
"New
Project" from the dropdown.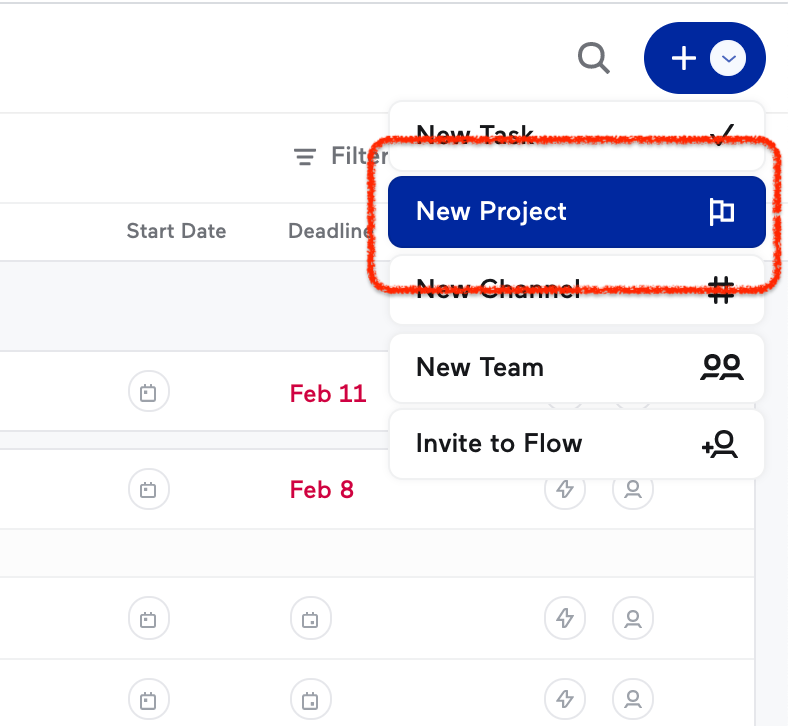 Note: You can also click the + next to any group name on the Team dashboard, which you can access by clicking the Projects icon in the navigation bar or clicking a Team name in the Project sidebar.
First, name your project. We recommend a short but descriptive name that's illustrative of the tasks you'll be creating in it. The project will create in the team you're currently viewing by default, but you can change this by clicking on the Team name below the Project name field.

You can also enable Default Sections, which will automatically populate your list with To Do, In Progress, Needs Review and Done sections. If you want your tasks go through an approval process before they can be completed, this is a great way to save yourself some time. You can learn about other ways to use sections here

. Click Next to continue.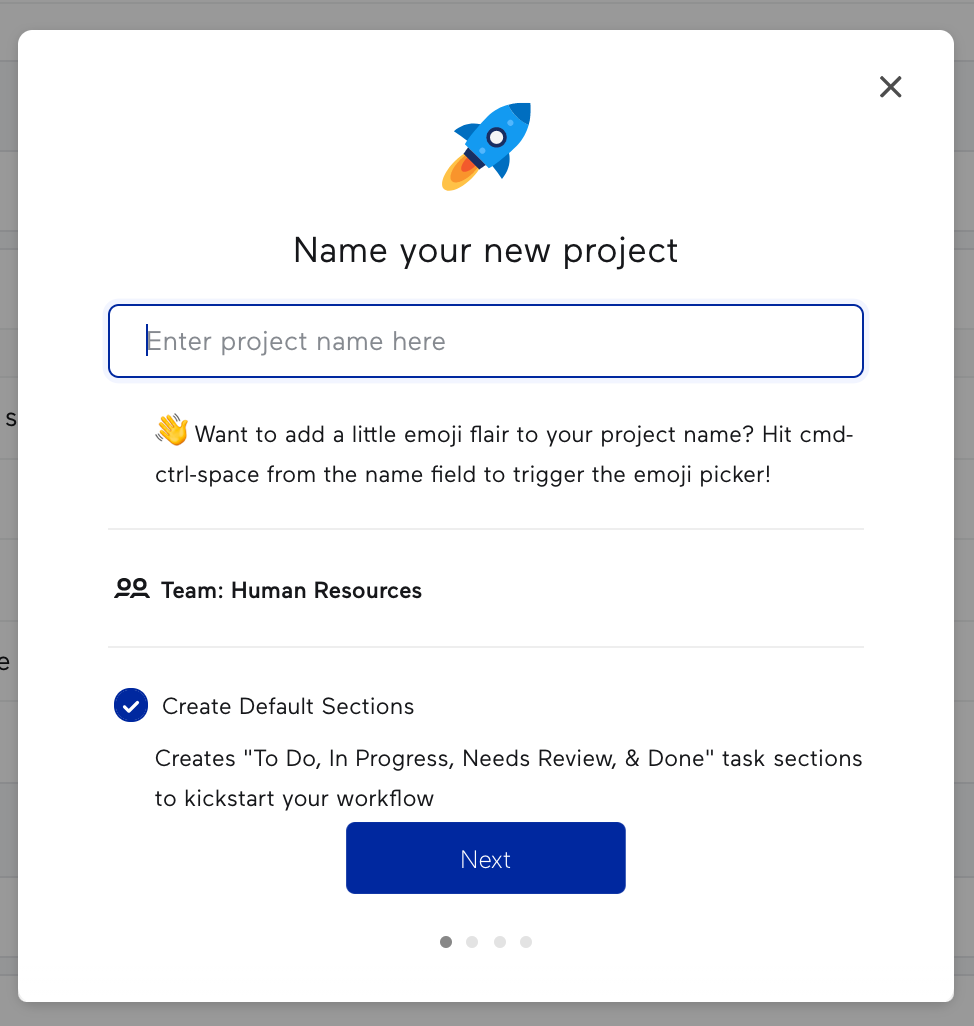 ---
If at any point you want to change who your project is shared with, just click the Details button at the top of the project view. You can also click the
'…'
on the top right side of the project to view more options.
In the Details pane, you can change the
project timeline
, edit the default sections, change the privacy settings, and add notes & files to the project. You can also add and remove additional users, if the project is invite-only/private.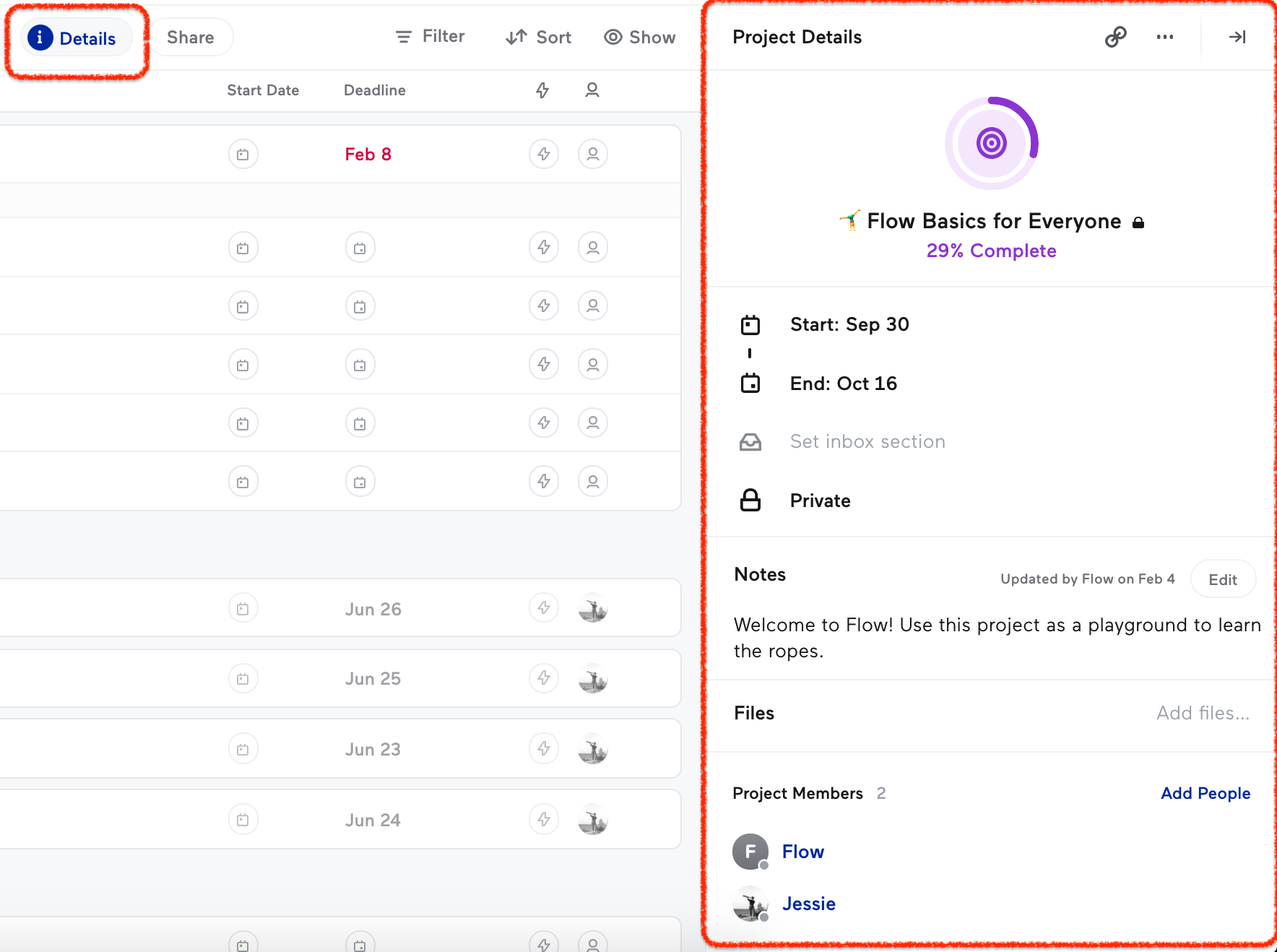 In the
"…"
menu, you'll find options to rename the project, share it, set a new colour, and pin it to your sidebar. You'll also find more substantive editing options, like Duplicate, which you can learn more about
here
, as well as importing and exporting and archiving and project deletion.
You can also invite guests to your project by clicking Add People. You can also invite General members by clicking this link. Just enter their name or email address into the field that appears in the Invite Members dialog, select their role type, i.e. Guest, Member or Admin, and click
"Add
members".