You can export open or completed tasks in any project. This can be handy for sharing progress with outsiders.
---
When you export a project, you can choose to export either open tasks, or completed tasks. You also choose what time frame you want to see completed tasks from, either the last week, last month or a custom date range. The export is available in three formats: PDF, CSV, and HTML. The style of your export depends on how you have your project organized, whether by owner, due date, start date etc.
Exporting Open Tasks
Exporting a project is an easy way to share your task project with someone and to convert it to a printable format.
To export the open tasks in your project, click the ... button in the top right side of the project view to open the actions menu and select "Export Tasks."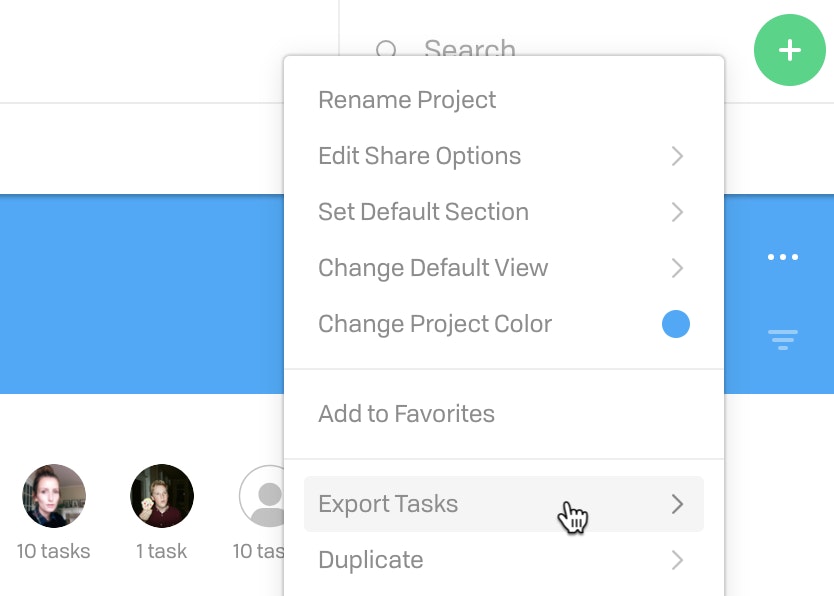 Now, make sure "Open Tasks is selected" and choose the format to export your task project to (you have the option of PDF, CSV, and HTML). PDF and CSV export tasks only, while HTML exports tasks, comments and activity as well.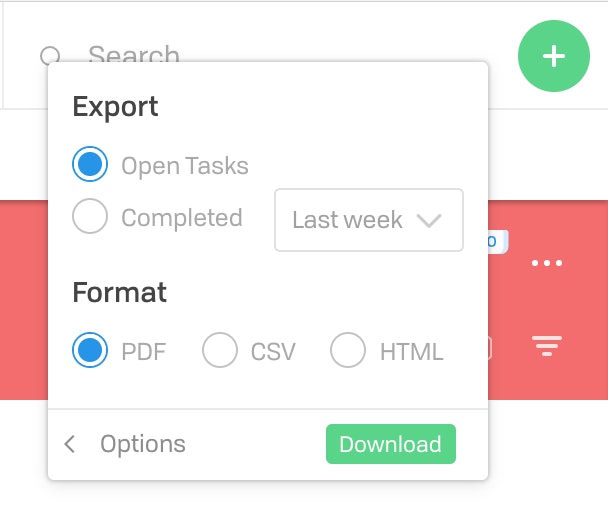 When you've selected the export format, click "Download." PDF exports will appear in a new browser tab, HTML will download and then reopen in a new browser tab when clicked, and CSV will download to your computer's Downloads folder.
Need a physical copy? Once your project is exported you can print your data from the downloaded CVS or PDF file.

---
Exporting Completed Tasks
You can also export completed tasks. To do so, open the "Export tasks" popover in the project actions menu.
Once there, select "Completed." You can choose to export tasks that were completed in the last week, last 2 weeks, last month, or between specific dates. Finally, select an export format and click "Download."