Whether you're tracking down important details about a client, looking for guidance on how a previous task was handled, or just want to relive a moment of commenting genius, Flow's search quickly connects you to your past and present projects.
---
The more you use Flow, the more it becomes a repository of essential information, not to mention an instruction manual on what's worked for your team and what hasn't in past projects. So it's essential to have a fast and reliable way of finding this info whenever you need it. In Flow, you can search by keyword or add simple Quick Filters before your keywords to narrow your search down further and get results quicker.
To access search in Flow, just click the magnifying glass icon in the top right corner
(next
to the New Task button)
or use the keyboard shortcuts
Command + K
or
/
.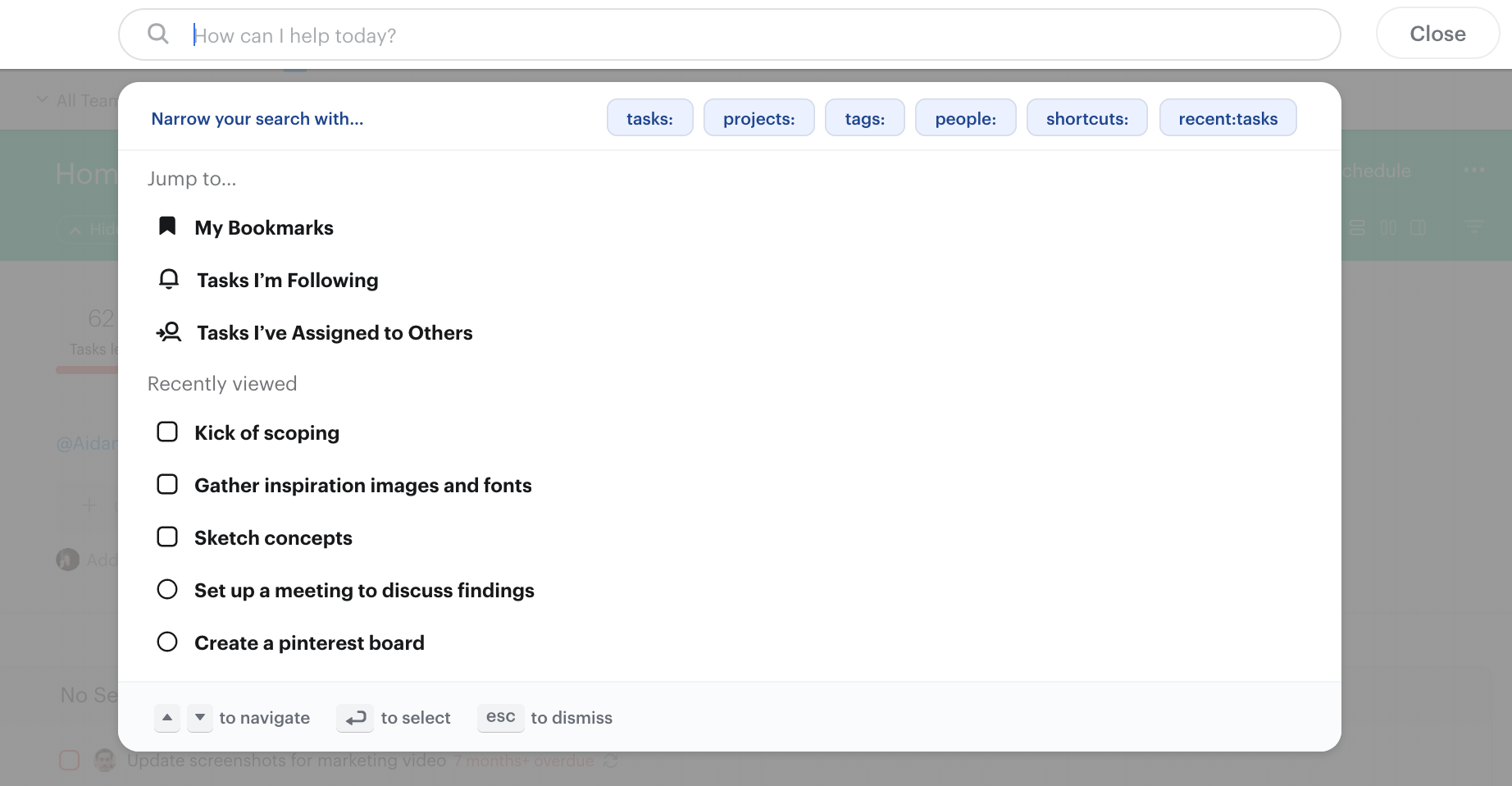 This will open a search panel where you'll see shortcuts to your bookmarked/flagged tasks, tasks that you're subscribed to, and tasks that you've assigned to other people. You'll also see a list of your most recently viewed tasks. You can either click to view these items or navigate between them using the arrow keys and hitting Enter on your keyboard to make your selection.
To search your account more broadly, you can enter your keyword into the search bar to see matching results across projects, tasks and chat. Click
"See
all search results" at the bottom of the results list to see every match
(we'll
show you the top six in the search panel to get you started.)


If you've moved past standard search and need something with a little more heft, you can use
Quick Filters
to narrow down your search even further. For example, if you type in
projects:
followed by your keyword, i.e.
projects: design
, the app will only search projects, as opposed to tasks and chat messages that match the
"design"
keyword. Similarly, you can type
is:completed
before your keyword to only search completed tasks.



Below is a full list of
Quick Filters that are currently available
.
We'll continue to update this list as we think of ever more clever ways to serve up search results. If there's one you'd like to see added please send it to us at feedback@getflow.com.
recent:tasks - show recently viewed tasks
recent:projects - show recently viewed projects
is:bookmarked or is:flagged - show flagged tasks
is:favorited - show favorite projects/task views
is:completed - show completed tasks
!is:completed - show open tasks
is:subscribed - show subscribed tasks
tasks: - show tasks
projects: - show projects
shortcuts: - show views you can quickly jump to like

"home"

or

"delegated"

people: - show people
channels: - show chat room channels
tags: - show tags
Some other Quick Filter you might find useful are
people:
and
tags:.
The
people:
Quick Filter allows you to quickly find people on your team and jump to their profile
(where
you can then view their tasks by clicking
"View
Tasks").
The
tags:
option
—no
surprise here—
will show you tag results that match the keyword search. For example, if I wanted to see all of our team's bug tasks, I would enter
tags:bugs.
Clicking the matching result would then take me to the tag page where I could see
all
the tasks that have that tag applied.
Additionally, if you've lost track of what tags your team is using, you can enter
tags:
followed by a letter to see all the tags beginning with that letter
(and
others that simply contain it.)

Quick Filters can also be combined if they're compatible. For example, you could combine
recent:tasks is:completed
to only show recently viewed tasks that have also been completed. Or, if you're trying to track down an open task that you're subscribed to related to your team's content calendar, you would enter
!is:completed is:subscribed
before your search term:
!is:completed is:subscribed content calendar.
To close the search at any point, either click
"Close"
in the top right,
Esc
on your keyboard or simply click in the space around the search panel and you'll be returned to the page you were viewing prior.